---
Q: How do I proceed for a warranty claim?
A: As mentioned in our warranty policies, the frames of Cycles Devinci inc. are guaranteed against all manufacturing defects to the first owner. Click here for the more specific information regarding the warranty policies. To start the warranty process, please refer to your local Devinci authorized dealer with your proof of purchase. Click here to find the nearest retailer.
The components assembled on Devinci frames are guaranteed by their respective manufacturers. Please contact your authorized Devinci retailer for more information regarding the applicable warranties.
---
Q: How can I order spare parts for my Devinci bike?
A: For any parts ordering, please refer to your local Devinci authorized dealer. If they don't have the part that you are looking for in stock, they will get it from us or a parts distributor. Click here to find the nearest retailer. If there are no dealers in your area, refer to the online retailer section in the dealer locator.
---
Q: How does the flip chip works?
A: The low position is meant for a more aggressive enduro type of riding; it slackens the angle and lowers the bottom bracket. The Hi position is for a better position for pedaling; it raises the bottom bracket and reduces the angle. To change the flip chip position, the bolt loosens clockwise, so turning the Allen to the right will remove the bolt, and turning the Allen to the left will tighten the bolt.
---
Q: How can I find specification on an older Devinci bike model?
A: All the information about our older models, starting in 2006 is available here
---
Q: What fork size can I use on my bike?
A: We do not recommend adding more than 10mm than the original fork size as we haven't tested our bikes on higher travel fork, therefore we don't know if it will handle the geometry changes.
Please refer to your Devinci retailer for more information. Click
here
faire to find the nearest retailer.
---
Q: What is the maximum tire size that I can put on my bike?
A: Click here for the maximum tire size that we recommend, however, depending on the tire company, a larger tire might fit. The physical tire size and the actual width can vary between brands, because of this we suggest you visit your local Devinci retailer for more help in choosing the correct tire size.
---
Q: Can you provide me any (Bike model) (year) decals? I want to change the color on my bike!
A: We cannot provide you decals because we use a complex proceed of water transfer stickers and we must apply a layer of clear coat over them. Also, the vector version of the decals is copyrighted.
---
Q: Which bike size should I choose?
A: All our bikes have their specific charts, like shown below. It provides the dimensions to find which size is best for you.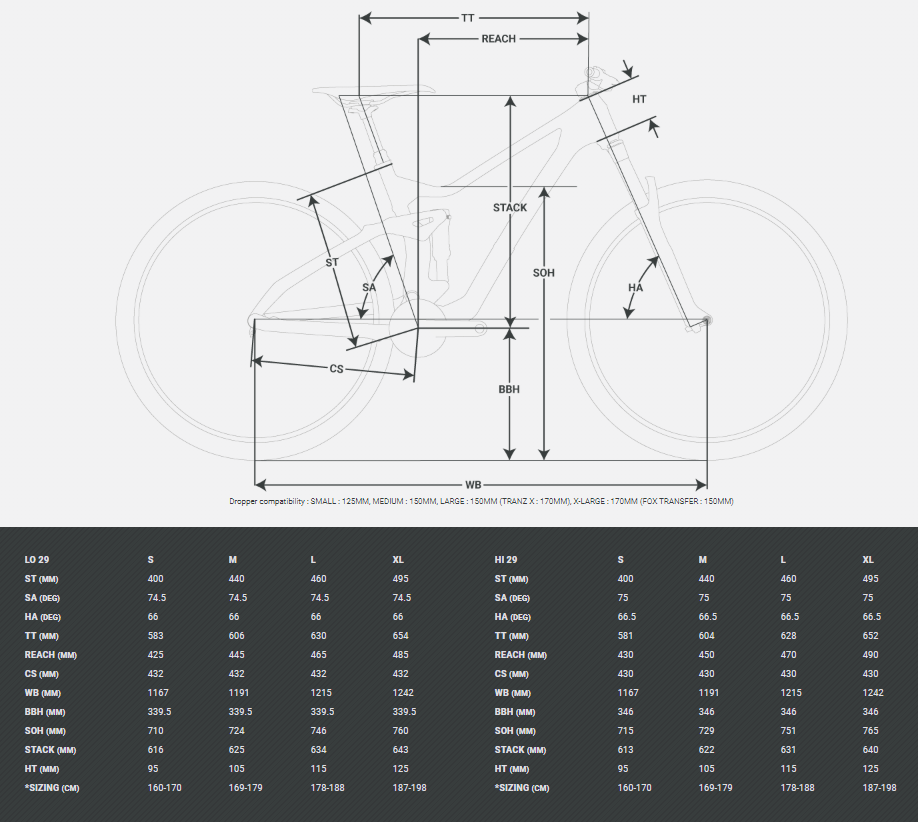 Please note that only Devinci authorized retailers are able to advise you properly on the correct bike size. Please visit your nearest store so they can analyze your needs. In the case of internet shopping, it is equally important to provide the necessary measurements (e.g. inseam length) so that the retailer can give you the correct information. Click here to find the nearest retailer.
---
Q: My bike is making a creaking noise, how can I find where it's coming from?
A: A bicycle is intended to ride in different environments regardless of the weather, to be ridden occasionally or year-round by professionals and beginners, a bicycle is an integrity of mechanisms that needs some maintenance. After using your bicycle for some time, it may begin to generate some creaking noises, squeaks and all sort of different weird, annoying noises. Don't be worried, you are riding your bicycle in the purpose of its creation if you're hearing these noises. It is normal and it only means that you need to give your bicycle some loving. However, if after periodic maintenance these noises are still heard, these are symptoms that show you need to take some more investigation to uncover and fix these problems.
The following simple steps will guide you through the most common areas of squeaking/creaking noises, they will provide you the procedure in order to make them cease and ride your bicycle smoothly again. Never forget that these annoying noises also mean that there might be possibility of serious safety issues if not dealt with. If after following all these simple steps, you are still experiencing some problems with your bicycle, we highly recommend you bring it to your local Devinci Authorized Dealer for further investigation.
---
Q: Who do I need to contact for any other questions regarding general spec changes?
A: Devinci bikes have been tested with the parts listed on our web site. Therefore, changing some specifications could change the way the bike reacts and the geometry, and at the same time, void your frame warranty. For any specs changes, please refer to your local Devinci authorized dealer to make sure this won't affect the points listed previously. Click here to find the nearest retailer.
---
Q: Who do I need to contact for sponsorship request?
A: Firstly, we want to thank you for your interest in Devinci Cycles!
As you may guess, we receive many requests like yours. So here is our procedure for sponsorship. You need to deal with a Devinci retailer in your area. They are the ones in a position to decide who they want to support, how, and then follow your evolution and your needs. Many athletes are supported that way so it definitely worth trying.
On our end, we only support our official teams plus some local athletes. With the huge market we are covering, it would be impossible to follow everyone correctly; this is why we need our Devinci dealer to be involved. You can search for the closest retailer on our website or by clicking here.
Devinci team wishes you all the best in your research.
Keep on riding!
---
Q: How can I get the user and technical manuals?
A: Click here to consult our owner's manual to answer possible questions that don't figure in this frequently asked questions. To download the specific technical manual for your bike model, please refer to the «Downloads» section at the bottom of the bike model page.

---
Q: Where can I find my bike's serial number?
A: The majority of serial numbers are located under the bottom bracket. If there is no serial number there, then check places like: Under the down tube, on the non-drive side of the down tube, or behind the seat tube.
---
Q: How do I set up the SAG on my double suspension bike?
A: Check out our video here for a full explanation.
---
Q: How do I make my wheels tubeless?
A: You can purchase a tubeless kit through your Devinci retailer or online. If you feel comfortable doing it yourself, you can find many how-to videos online, if not, refer to your Devinci retailer.
---
Q: How do I order a new battery key for my e-bike?
A: If you have lost your key and do not have the key number, you will have to contact your Devinci dealer who can order a new key and tumbler from ABUS and change the lock system. If you have not lost your key and simply would like to make a spare, you can have one made at any shop that cuts keys or order one directly from ABUS with the number written on your key.
---